This Week's Story

click here to play audio
As Dwayne King grows he thrives on speed and fun, and then his life receives a new passion.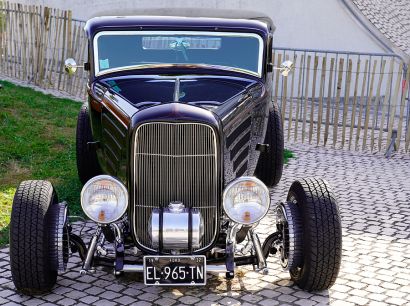 This Week's Story relives American history and the Bible through brief inspiring stories presented on mp3 audio recordings and text for reading.
Dwayne King - From Hot-rodder to Pilot, part two
My driving began with fun and soon speed, as I wore cowboy boots and sped forward in loops on a tricycle. I was a little twerp in New York State in the early1940's.
Later when I wanted a bicycle, Dad made it clear that I would have to earn the money. A new Schwinn bicycle became mine when I won a contest collecting old shoes for a radio station.
We had a good family life, school, church, and sports. Dad was a machinist at IBM and a storyteller who made up stories just by looking at people walking down a street. Mom was a clerk at a department store. I had two brothers and one sister, who survived her brothers. When I was three, I gave her a present, her first haircut. Her blond curls tumbled to the floor.
As I grew, I found myself repairing our family bicycles, radio, and whatever needed fixing. It was training for my future. I rebuilt my brother's '55 Chevy engine.
There was no stalling my passion for hot cars. I loved them and I needed a '32 Ford hot rod.
You have to see and hear a hot rod. It has a "souped up" engine. It's designed for racing. The engine is often exposed. It has it all: acceleration, speed, and muffler roar. Whatever you want to call the juice it gives the driver, it's got it!
As I developed skills, I was also developing a good work ethic. Grandpa taught me to work with my hands with blacksmithing and welding. Dirt and machinery did not bother me.
My brother Dave and I were fortunate to earn money delivering newspapers, I worked collecting garbage, and being a mechanic's helper, I needed the money and skills to repair my cars.
Sports brought me the excitement of speed, the camaraderie of team friends, and travel opportunities. I played baseball, and participated in track and cross-country events.
On Sundays our family attended Calvary Tabernacle. I was in the youth group, but not known for saintly behavior. I was eleven when I made the decision to become a Christian. My family helped me to realize the importance of that choice.
One of my cousins said, "Dwayne was the reason I was always in trouble, but he would tell you different. I think the turning point in Dwayne's life...was when he received Christ as his savior."
My family, grandparents and uncles, had a strong positive influence upon me. I think my grandmother's prayers led to three generations of Christian workers in our family. My Uncle Bill was my strongest spiritual motivator during my teen years.
Two other uncles inspired me with their stories of World War II service. One served in three wars. He stirred me to want to serve God with the same zeal and love he had. My uncle thought that there was something in me that went beyond being occupied with hot-rodding or a typical religious career. He told my parents, "That boy ought to be fixing or flying airplanes for God...."
Join us for part three of the Dwayne King series. We will follow Dwayne into mission aviation.
Todd Warren and I, Barbara Steiner, are bringing today's story to you.
Find this story and many more at thisweeksstory.com.
<< previous story] [next story >>
---
We invite your comments! [click here to comment]
---

Join the conversation.
This Week's Story is a non-profit supported by listeners. [click here to make a donation with

]