This Week's Story
Our Staff
Barbara Steiner: executive director, story writer and researcher, English dramatic reader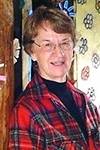 I have watched the eyes of students staring intensely into mine,
Listening in vibrant silence as I told them a story.
I too have been captivated,
And felt the unique quiet unfolding in the classroom,
As a story found our hearts.

* * * * * * * * * * * * * * * * * * * * * * * * * * * *
---
Barb Wuertz: curriculum director and writer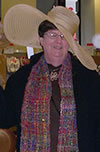 A good story changes lives.
I can't remember a time when I didn't read. Although I wasn't one to have my "nose in a book," I loved library days at school and finding exciting new stories to read for the week
Although active in sports in school and leaning toward a coaching career, my focus shifted when I started my family. Reading stories with my children was often the highpoint of the day. New stories prompted questions; familiar stories encouraged choral recitations.
When my four-year old son started picking out oft-repeated words in favorite stories, a new world opened for him. I wanted to bring this excitement to others as well. Coaching sports wouldn't do that, teaching Language Arts/English would.
While earning my MA and teaching credential, I was exposed to a variety of curricula. My 20-year teaching career was in Language Arts at a middle school. Working with inspired, dedicated colleagues and supportive administrators, Intervention classes, Honors classes, AVID classes, coordinator positions of Arts and Science Fairs, Spelling Bees, and district committees became part of my life.
Creating curricula for This Week's Story reminds me of all the students whose lives have touched mine. Remembering their different needs, learning styles, and different life experiences influences me.
My goal is to help readers appreciate each story on various levels and understand how it may apply to their own lives. Understanding leads to inspiration; inspiration leads to action; action leads to change; change leads to growth.
---
Tomas Ricardo Tellez: illustrator

"... a mind needs books as a sword needs a whetstone, if it is to keep its edge."
– George R. R. Martin, A Game of Thrones
I'm a music and book-loving artistic computer movie geek, if I had to sum it all up in a quick sentence. I love life and all that it compasses. Reading allows me to live many lives through my favorite characters. A window to other worlds and realities. Books allow me to learn through others' experiences. Being a part of This Week's Story allows me to help others learn. I draw from my heart. I love being a part of something my community works hard to pull together to help the education and minds of others grow.
---
Nathan Thomas: recorder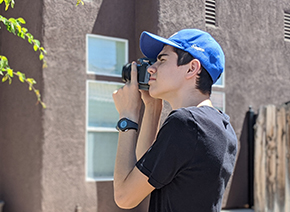 Nathan is an "essential" staff member. He begins the electronic travels of the TWS stories. Since December 2019 he has been the adept recorder of the stories for radio stations and This Week's Story website.
Dramatic readers with stories in English and/or Spanish weekly step into a recording booth in Blythe, CA. Nathan records the readers. The stories pass to electronic editor, Adrian Novak in Cathedral City, CA. From there they travel for website text layout to Alyce Steiner in Los Angeles, CA. Finally, they are received in Lynden, WA. by Blair Scott of Int'l Graphics Design for a host of electronic steps.
Impromptu quotes from Nathan:
"I love storytelling whether it be through books, movies, or any other media. That's one reason I love This Week's Story."
"I weekly enjoy challenges with recording TWS stories.
Currently I am making short films to develop my film-making skills. I have a YouTube channel.
"Definitely, I've been blessed by the Lord."
---
Gaby Thomas: Spanish translation adviser
Scott Thomas: dramatic reader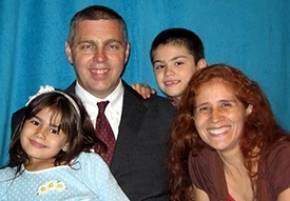 Scott met Gaby Delgado while on a brief mission trip in Torreon, Coahuila, Mexico. The two were married in the summer of 2001. The following year they began developing the Language Safari Project. They have written two books, The Big Red Book of Spanish Vocabulary and Listen 'n' Learn Spanish with your Favorite Movies, published by McGraw-Hill.
They envision a generation rising up not only with technical skills of speaking, reading, and writing foreign languages, but also becoming men and women of character. The Bible is a foundation for character. They wish to help young people to be inspired to greater levels of faith by the stories they read, hear, or watch in whatever language they occur.
Currently Scott is a teacher. He and his wife also work on the Language Safari Project. They have two children, Nathan and Daniela. Gaby initially translated TWS stories into Spanish. Now she is a valuable resource. Scott is an excellent dramatic reader for This Week's Story Spanish story audios.
---
Elena Gamez: Spanish translator & dramatic reader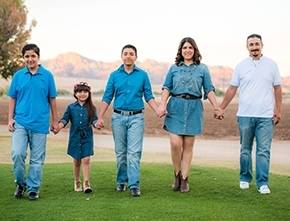 What is the "Grand American Dream?" Is it an opportunity for prosperity, success, or freedom? For me, it is to pursue a profession which I love.
I was born in Sonora, Mexico. When I was nine, my family decided to pack their essentials into a small box and move to the United States. The box was small, but it was full of dreams and hope.
In Blythe, California, a one-bedroom apartment awaited us. Yes, a one-bedroom apartment for a family of ten! Starting a new life and leaving behind friends, traditions, and our home was not easy. Shortly after arriving I was enrolled in the fifth grade. I did not speak English, nor was I familiar with the culture. It was very different from what I knew. The process of adjusting was complex. The bullying of my peers was devastating. I remember, as if it were yesterday, when a classmate told me, "Maria, the teacher wants you to read your Spanish book to the class."
I often read books in Spanish, while the class was working on classroom activities. Not knowing any better, I stood up and began reading my book in Spanish to the entire class. I heard my classmates laughing and the teacher asked me, "Maria, read to yourself." I was humiliated. I spent my recess by the school fence crying and staring at cars that drove by. Were my parents in any of them?
I hated my new life. Eventually time made everything easier. Every humiliation that I suffered at school made me stronger and more determined. Two years later I was taken out of English as a Second Language classes and put into regular Language Arts classes. At that young age, I already had in mind that I wanted to be an ESL instructor.
After high school, I enrolled at Palo Verde College. After the first year, I fell in love and dropped out of college to get married. At the age of twenty I had my first son. He made me realize that I had to do more with my life. I went back to college, started working full-time and took care of my family. It was tough but not impossible. I graduated with two Associate degrees; one to be a clerical assistant and one in general studies. After graduation I was hired at Palo Verde College as the receptionist.
After eight years of working at Palo Verde College in different positions and obtaining a Bachelor's degree, I was given the opportunity of my life. I was offered a job as an ESL instructor. I completed a Master's degree in TESOL a year after I started teaching.
Today stepping into a classroom knowing that I can change lives and that I can help others live their "American Dream" is a feeling that I would not change for anything.
Having my mother as a student is one of my major accomplishments. She was not given the opportunity to go to school. As a six-year-old she was given adult responsibilities. She cooked and made corn tortillas for the family. When she was not in the kitchen, she was leased to wealthy families to do house chores or work in the fields. She had no time for books. Her tenacity and desire to give her children a life better than what she had experienced, make me proud to be her daughter and her teacher.
At age seventy-one my mother is now not only learning to write and read Spanish, but she is also learning English. She told me, "I will not die without going to school." She is living her "American Dream" as the mother of her teacher, and I am living mine as the teacher of my mother.
---
Elizabeth Steiner: story editor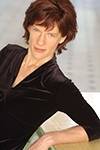 Life is a banquet; and oh, how I've been fed. I've walked on hot coals and broken a board with one bare hand. I've dove with parachute from plane, and broken an arrow in half, whilst pointed end rested in the hollow of my neck.
Experiences and books are mirrors for my strengths and limitations. Books have, and continue to teach me who I am and who I want to be. I've also devoted many hours for seven years to the study of acting, and three to creative writing, with a focus on poetry. I've taken no classes in photography; yet I see and seek to capture stories with a lens. I have a longing to free stories with a pen.
I strive to see God in every "grain of sand." And, though I crawl then stumble, I can stand, on the shoulders of those whose stories help me to grow into the person my Father sees.
---
Connie Bovee
Roger Bovee: consulting engineer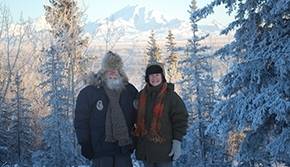 Roger and Connie serve as volunteers in Glennallen Alaska with the KCAM Christian radio station. Roger assists with engineering, which has interesting challenges. Ever climbed a 300 foot tower at thirty degrees below zero; well, neither has he.
Previously Roger worked thirty-five years with The Boeing Company as a design engineer, having the great pleasure of working with a two-million watt stereo system in Utah.
Connie is Barbara's sister and volunteers with the Copper Basin Pregnancy Center thrift store. She enjoys the quiet, trees, moose, bear, (no snakes up here), winters, auroras, salmon from the Copper River, and the monthly 185 mile drive to town for shopping. This is not to mention the 3,000 mile, each way, trips to visit their sons and grandkids.
Roger and Connie have two sons. Justin is in Oklahoma working as a computer super geek and married to Erika. Their grandson Sergei is eight, and granddaughter Hadassah is two. Their second son, Leighton, is in Utah, having recently graduated from the University of Utah in Chemical Engineering.
---
Deanna Pryor: bookkeeper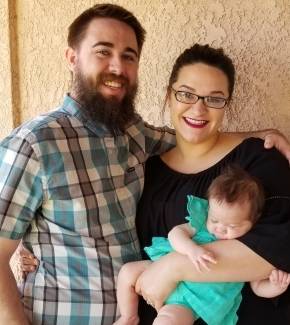 "The best and most beautiful things in the world cannot be seen or even touched – they must be felt with the heart." – Helen Keller
I never had an easy life growing up and books were often my escape from reality. I could immerse myself into any story and forget all my worries. I've always been determined and strong-willed. Reading opened many doors of opportunity, which later led to some major career choices.
After high school, I lost my job at a property management company and was desperate to find another. After much thought and deliberation, I decided I didn't want to work for someone else; I wanted to work for myself!
In 2014, at the age of 23, I started what is now a very successful janitorial service for residential and commercial properties. That business has now been handed over to my partner. I've moved on to starting a beautiful family and conquering motherhood. My love for reading hasn't diminished. I look forward to sharing that love with my children as they grow older!
Stories aren't just something you read, they're passionate liaisons that must be felt to really be understood.