This Week's Story
subscribe to podcast [click here] or play audio below
Not only was Wilma Rudolph fast, she was beautiful and graceful with a hard-to-believe story.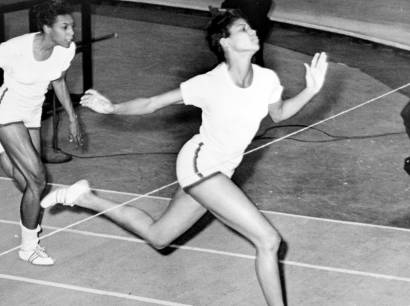 This Week's Story relives American history and the Bible through brief inspiring stories presented on mp3 audio recordings and text for reading.
Wilma lost and won! part two
"This is CBS bringing you the 1960 Summer Olympics from Rome. Never before have Summer Olympics been televised in North America. Not the Pony Express, but jets, videotapes, and mobile units race these televised sounds and images to you.
"Our news is no surprise. Wilma Rudolph, The Tornado from the United States, has run the 100 meter dash in 11 seconds. This is her first gold medal from the 1960 Summer Olympics. We predict that she will be taking home more gold medals. Italians here are calling her 'The Black Gazelle.' People whisper, 'She's must be the 'fastest woman in the world.'
"We close today's Olympic coverage with Wilma's words. 'Winning is great, sure, but if you are really going to do something in life, the secret is learning how to lose. Nobody goes undefeated all the time. If you can pick up after a crushing defeat, and go on to win again, you are going to be a champion someday."
In 1960 the United States had Olympic news and plenty of other news. A presidential race between John F. Kennedy and Richard Nixon
was one of the tightest in American history. If Kennedy were elected, he would be the youngest president in American history and also the first Catholic president. Sit-ins, boycotts, and protest marches were continuing in the struggle for equal rights for African-Americans.
Wilma was good news, especially when she won the 200 meter dash in 23.2 seconds, and then anchored the 4 x 100 meter relay team for her third gold medal. She became the first American woman to win three gold medals in track and field events. Not only was she fast, she was beautiful and graceful with a hard-to-believe story.
How could Wilma, who had broken three world records in running, have been crippled in her childhood? Her story became world news. This extraordinary runner had been born sickly and she was crippled from polio at age four. Her town had no hospital open to black patients and only one black doctor. But she had a huge, poor, and loving family.
Her mother, who worked six days a week, had taken her weekly on a Greyhound bus to Meharry Medical College. She was angry when she saw that blacks had to sit in the back. If there were not enough seats for whites, then blacks must give up their seats.
At home her mother and siblings had massaged her twisted leg several times a day. She'd been taught, "Wilma, when you see unfair treatment, remember Jesus wants you to forgive and respect white and black people."
Wilma had started school in second grade and had been accepted by other children. Wilma loved learning, even at a segregated school with inferior materials and facilities. The teachers at her school, Cobb Elementary, celebrated African American achievements.
Now she was world-famous and ready to return to Clarksville, her hometown in Tennessee. She heard that she would be welcomed with a segregated parade and banquet. "No, I will not be attending if it is segregated," she informed town officials. They got the message. The parade was attended by 40,000 people and was the first racially integrated city event in the town's history. Wilma was proud of her influence in bringing white and black together.
The following two years Wilma continued to win important races and awards, but in 1962 she retired from competitive running. She returned to Tennessee State University, graduated, and became a second grade teacher, track coach, and mother. Her vision became helping inner-city children and amateur athletes. She travelled throughout the United States giving motivational speeches to kids. In 1994 at age 54 she died of brain cancer, but not before inspiring young people to overcome adversity.
This is Scott Thomas for Barbara Steiner with a true story, which many people were shocked to find true. Discover thisweeksstory.com.
<< previous story] [next story >>
---
We invite your comments! [click here to comment]
---

Join the conversation.
This Week's Story is a non-profit supported by listeners. [click here to make a donation with

]