This Week's Story

click here to play audio
Polio is not going to determine what Wilma can do.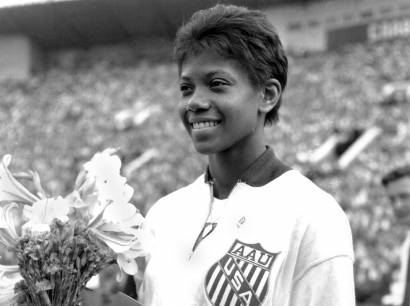 This Week's Story relives American history and the Bible through brief inspiring stories presented on mp3 audio recordings and text for reading.
The Fastest Woman, part one
Doctors announced, "She will never walk normally."
Wilma Rudolph's family announced, "Polio is not going to determine what Wilma can do."
Sixteen years later newspapers around the world called her "the fastest woman in history."
Wilma was born into a huge poor black wonderful family. She was four and a half pounds, premature, sickly, and loved! Her resistance to sickness was so weak that she got double pneumonia and scarlet fever and nearly died. When she was four, polio attacked her. She was left with a twisted left leg and foot.
Her parents assured her, "Honey, God has a purpose for your life." They refused to accept that she would remain crippled. Her mom, took Wilma on a fifty mile bus trip two times a week for two years to the Maharry Medical College in Nashville, Tennessee. Wilma was given heat and water therapy. Her mom was trained to massage Wilma's leg. At home her sisters and brothers learned to massage her left leg at least four times a day. Every day for weeks and months the treatments continued.
One year after Wilma got polio, doctors put a steel brace on her left leg. She was supposed to wear it from when she got up in the morning until she went to bed. She thought: I hate it. It makes people think something's wrong with me. When they see me, they see my brace. When her parents weren't around, she took off the brace and tried to walk without a limp.
At eight she could walk with the brace. Later she also used a high-topped shoe. Nothing was going to keep her from playing basketball with her brothers. She could walk normally at age eleven without a brace or corrective shoe. She felt: Finally I fit in with other kids.
Soon she was running. She was a natural athlete! In seventh grade she played basketball on a high school team. At age thirteen she joined the high school track team. The first season she competed in five different events. She won in twenty races!
Ed Temple, a superb track coach from Tennessee State University, watched her playing basketball as a sophomore.
"Wilma," he told her, "you have the talent to become a great runner. When you graduate from high school, come to my university."
That same year Wilma competed in a big track meet, but she didn't win one race. She realized: My talent isn't enough. I have to train better and build my skills. She went to a summer track camp and built endurance. Her junior year she went to Olympic trials and qualified for the 1956 Olympics in Melbourne, Australia. She had not heard of the Olympics until she was in high school. At age sixteen she won an Olympic bronze medal for her run in the 4 x 100 meter relay.
Her senior year at high school she became pregnant and gave birth to a daughter, Yolanda. Her parents urged her, "Wilma, we want you to go to college. We'll care for Yolanda until you can." She went to Tennessee State University, worked ten hours a week on the campus, was late to classes, and used all her spare time for running. She pushed herself hard and then became too sick to run her first season at college in 1958.
By the next year she had recovered, but she pulled a muscle. Her coach, Ed Temple, guided her recovery and work-outs. By 1960, the next year, she was ready for the Olympics in Rome, Italy.
Her phenomenal speed caught the attention of the world. Pictures of her beautiful face and all five feet and eleven inches of her runner's body breaking records were on every newsstand.
This is Scott Thomas for Barbara Steiner. Soon we'll hear of Wilma's dramatic success at the 1960 Olympics and more about her challenges.
Discover the website: thisweeksstory.com.
<< previous story] [next story >>
---
We invite your comments! [click here to comment]
---

Join the conversation.
This Week's Story is a non-profit supported by listeners. [click here to make a donation with

]