This Week's Story

click here to play audio
A store bursts with Alaskan creativity and God's magnificence in nature.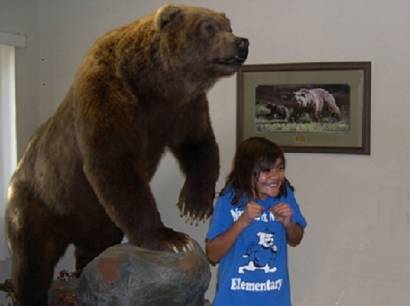 This Week's Story relives American history and the Bible through brief inspiring stories presented on mp3 audio recordings and text for reading.
To Alaska with Wide Eyes and Open Ears
There's a town with grey rooms and tired people wearing ear plugs. They don't see or hear. There's a sunny park with a little girl singing, "Mommy, I love you." There's a high school senior stepping forward with hope and excitement to receive his diploma. If you visit Alaska, take the senior and little girl with you. You'll find a world to explore with wide eyes and open ears.
I went to Alaska this summer. On my first morning in the city of Anchorage I stepped outside to dump garbage. I saw a sign. "Keep Alaska's bears wild. Handle your garbage responsibly." I laughed, "Is it possible that bears come into the city to go garbage-picking?"
A man walking by me asked, "Are you from the 'outside'?"
"Yes, I come from the 'lower 48' near the Colorado River in Blythe, California."
The man grunted. "I was there last August. The temperature was 119 degrees."
"Sir," I asked, "what was your coldest temperature last winter?"
"Thirty-nine degrees below zero."
"I'd say we were even."
Later in the morning I went to the Alaska Fur Exchange of Anchorage and interviewed the owner, Geri Gillespie.
She told me, "I was an executive secretary and married a sailor. We had two boys. I wanted to be creative and near my boys. So I bought $4.00 worth of beads. With them I made jewelry and sold it. Then I bought $40.00 worth of beads at a flea market and sold earrings, bracelets, and necklaces.
"I needed to decide: What are my goals with my business? When I was a child I gave part of the money I earned for special needs. Now I wanted to give money to friends who were missionaries in Haiti. I talked to my pastor and he said, 'We'll ask God to bless you according to the needs of your friends.'
"On Christmas Eve in 1977 I moved to Alaska with my family. Soon we were selling jewelry at our first show in Anchorage. Through the years our business grew. I believe we now have the largest selection of items made in Alaska that can be found in any store in Alaska. We are told it's the best selection."
After talking with Geri, I wandered through the family store. It has no fancy, expensive, or spacious displays. It is tables, cases, and walls packed with wonders of Alaska, America's last frontier.
Hundreds of beautiful furs, tanned and finished, are on display and available for purchase. No city salesmen bring these pelts. Trappers come with the skins of fox, lynx, wolf, wolverine, coyote, beaver, otter, deer, black bear, moose antler, and seal. The variety is overwhelming!
I ran my hands through fur skins. Some have the softness of baby skin! The hairs are close. They come from wild animals, who have grown warm coats for the winter. Skin sewers and tourists buy these furs.
Ivory pieces in the store range from exquisite artistry to simpler pieces. Clothing and slippers with Alaskan designs are well-made and tempt me to buy.
Geri told me, "I marvel at the skills displayed in the handmade items, the sewing ability of women who create something out of 'nothing,' and how ugly bones can become works of art.
As Geri spoke I thought, I love seeing a store bursting with Alaskan creativity and God's magnificence in nature.
I'm Barbara Steiner on another venture in Alaska. Please check out thisweeksstory.com.
<< previous story] [next story >>
---
We invite your comments! [click here to comment]
---

Join the conversation.
This Week's Story is a non-profit supported by listeners. [click here to make a donation with

]