This Week's Story
subscribe to podcast [click here] or play audio below
An attacking dog, a dog who loves, and and an abused dog build sensitivity and stewardship for "life."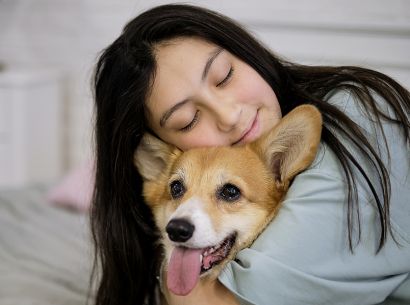 This Week's Story relives American history and the Bible through brief inspiring stories presented on mp3 audio recordings and text for reading.
Three Dogs Stir My Thinking, part two
I opened my bedroom door into a long dark hallway. Instantly a dog shot straight for me. I screamed loudly. The dog was about two feet from me, when I managed to back into my bedroom and shut the door.
People in the AirBnB, where my daughter and I were staying, checked to see: Was I safe? My daughter said, "I have never heard you scream before."
I went to the living room. There the dog's owners stood with my attacker. The dog's owners asked, "Would you pet our dog? It will help him to accept that you are not a threat to us."
I hesitated. Certainly, I did not want to pet the dog. I did. His bulldog's body was unbelievably muscled. I felt no soft welcoming place to pet! He was rigid and I was hesitant.
That unpleasant experience happened in August 2021. My eyes still see the dog bounding towards me. I feel his taut body.
In December 2021 I encountered another dog. As I stood on a cement plaza in a city three people came walking towards me with looked like a Great Pyrenees dog.
The plaza dog stepped ahead of her people and walked directly to me. She stopped by me. Immediately, I petted her and knelt to greet her. My fingers went into her long curly hair. As I hugged her gently, I felt her responsive body. I had never met her previously, but already we were friends.
That same week I visited in a house next door to a dog leashed outside. He never was off his leash. The only human who spoke to him was a man who yelled harshly at him. The dog was scrawny and medium-sized.
Current animal cruelty codes in New York City define animal cruelty as causing "unjustified harm, pain, or suffering to an animal or neglect an animal's care by not providing it with proper food, water, medical care, or suitable shelter."
Recently I was introduced to the history of dogs in New York City in the 1800's. Then people demanded a shoot-to-kill rule for stray dogs. Each dead dog earned the catcher 50 cents. In 1850 a Dog Bureau allowed employees to beat stray dogs to death.
Finally, in 1894, people began to be horrified at the brutality of dog catchers. The American Society for Prevention of Cruelty to Animals took over catching stray dogs.
Each generation of Americans decides by default or decision what are its moral responsibilities for any form of life. The Bible in Genesis 1 indicates: "God saw the earth after His creation and said that it was good. He added that man was to be responsible for the earth."
This is Barbara Steiner with stories from American history and classic Bible stories.
Check out thisweeksstory.com.
<< previous story] [next story >>
---
We invite your comments! [click here to comment]
---

Join the conversation.
This Week's Story is a non-profit supported by listeners. [click here to make a donation with

]