This Week's Story

click here to play audio
Nathan Hale's hanging is investigated by his brother.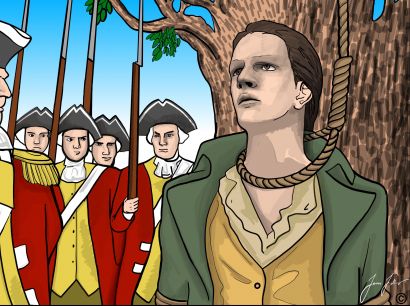 This Week's Story relives American history and the Bible through brief inspiring stories presented on mp3 audio recordings and text for reading.
Spy and Patriot
Five weeks ago my brother was hanged in New York City--hanged by the British. The night before, he asked to see a minister. The answer was, "No." He asked to have a Bible. Again, the answer was, "No."
Nathan was 21, too young to be executed. But he was a spy for the Americans. Papers that proved his guilt were found on him. General Howe interrogated Nathan. There was no trial. Just a sentence -- hanging!
I, Enoch Hale, have been questioning people who were present. I want to know: What did my brother say before dying? How did he act? I've been recording my investigation. Several newspapers and books have recorded parts of the speech Nathan gave before he died. They don't always say the same words, but they're always similar. I have one clear conclusion. I'm proud of my brother. He died willingly for freedom.
Nathan was a terrific brother in our big family with 12 kids. We loved sports. If there was a ball to be kicked, Nathan was the one to do it. How high the ball would soar! Usually he was calm, but he
sure would get excited at boxing, horseback races, and swimming. You should have seen his agility when we played baseball.
Nathan and I went to Yale College together. He was thirteen and graduated with honors four years later. He became a successful teacher.
Soon, his life changed as the American Revolution began. He believed that Americans had just cause to fight for freedom from Britain. A buddy, Benjamin Tallmadge, wrote to him that the most important action he could take would be to join the military service, and defend "the honor of our God" and our "glorious country." So in 1775 Nathan joined the American Continental Army.
The following year the British took New York City. General Washington urgently needed information about British troop movements. A spy was needed to slip behind enemy lines into the city. If caught, the punishment would be death. The ideal choice would be a Ranger, as Rangers were leaders in difficult and daring missions.
When the Ranger commander asked for a volunteer, no one responded. At the second call Nathan volunteered. Disguised as a Dutch school teacher, he got through British lines. He obtained drawings and recorded information about the British defenses. These secret papers were found on him, when he was captured.
I do not know how my brother was taken. I've been told that our cousin Samuel, who sided with the British, recognized Nathan and tipped off the British. How rotten to betray a member of your own family! I also heard that a British Ranger tricked Nathan, when he was at a tavern. The Ranger pretended to be a Patriot and Nathan revealed that he was a Patriot. British Rangers followed him and arrested him.
After Nathan's hanging a British officer went to General Washington's headquarters with a truce flag. He reported to a captain that Nathan had been executed that morning. He seemed touched by Nathan's death and said that when preparations were being made that he had asked the prisoner sit beside him in an open tent. Nathan showed no fear, just peace and assurance that what he had done was right. He asked, "May I have writing materials?"
The British officer supplied them and Nathan wrote a letter to his mother and one to a fellow officer.
As Nathan's brother I wish there had been an official recorder of his last words. To the few people, who were standing by the gallows, Nathan gave this basic message: "I only regret that I have but one life to give for my country." As Nathan's brother and an American, I hope his message and what he died for will not be forgotten.
This is Barbara Steiner with the story of Nathan Hale. I remember hearing of his heroism when I was in elementary school. I found it unforgettable.
<< previous story] [next story >>
---
We invite your comments! [click here to comment]
---

Join the conversation.
This Week's Story is a non-profit supported by listeners. [click here to make a donation with

]