This Week's Story

click here to play audio
Smiles light the faces of refugees and volunteers at the refugee shelter in Blythe, California.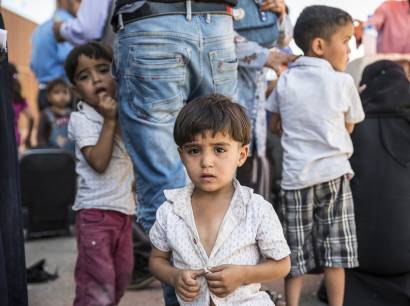 This Week's Story relives American history and the Bible through brief inspiring stories presented on mp3 audio recordings and text for reading.
Homeless with the Golden Rule, part three
As a kid I saw The Golden Rule verse so many times that I stopped seeing it. "Do to others as you would like them to do to you." Matthew 7:12.
Now I am thinking about it. The immigration deadlock has the United States by the throat. I suspect that "me first" is not the key to the lock.
I heard Maria Lind, director of the Blythe, California refugee shelter say, "Our clothes dryer is broken".
That week in May 2019 there were about 120 refugees in the shelter daily. I imagined piles of used clothing and towels waiting to be washed and dried. I knew Maria was her own secretary, administrative assistant, and bookkeeper. She also receives daily calls from Riverside County Social Services. A sample phone call is: "Maria, about 8:00 P.M. we are bringing fifteen refugees. Tomorrow we will take fifty from the Blythe shelter." Maria is on call 24/7.
I knew what I needed to do. "Maria, don't worry about the dryer. Please, let me take this problem."
After researching dryers on Internet, I shared the need with a local friend who responded, "I will give $100.00."
Another friend's response was, "My wife or I will be in touch with you." Later he walked into my living room, where I was teaching, and slipped $50.00 under a paper beside me.
I visited a neighbor and told her about the shelter and refugees being brought to Blythe. I stopped suddenly, and said, "I'm probably telling you more than you want to know."
"No, you are not."
I continued. When I stopped, she said, "I can give $1,000.00."
I looked at the local Sears store for a good price on a large Maytag commercial dryer. Delivery needed to be soon. The manager and clerk made it happen.
The right dryer was purchased and delivered. Sears' services included no charge for moving, and a sale price. $100.00 more was taken off the price. With the remaining collected money, food could be purchased for refugee meals.
When I paid my water bill at city hall, the clerk said, "I have clothes from my boys which I would like to give for the refugees. What do they need?"
When I went to Blythe Drug, a clerk said to me, "I want to take clothes and toys that my son is not using. Do I need to call first?"
"No. Go through the gates and to the back entrance."
A second clerk added, "Refugees are being treated by the clinic. The drugstore is filling their prescriptions free."
"Free?"
"Yes, free!"
Later I learned that another local pharmacist also was providing free medicine for the refugees.
Lohnay Bishoff, a local teacher, began a fundraiser on Facebook. I read on it. "I just dropped off over $1,100.00 in much needed supplies… It can be overwhelming to see how much need there is, but it felt good to help in some small way."
Local people are helping with cooking, folding towels, serving food, repairing faucets, making friendship bracelets with children, playing musical instruments, teaching conversational English, and visiting. Many ways of helping!
This is Barbara Steiner. You are invited to: www.thisweeksstory.com.
<< previous story] [next story >>
---

Join the conversation.
This Week's Story is a non-profit supported by listeners. [click here to make a donation with

]