This Week's Story
subscribe to podcast [click here] or play audio below
The Homeless come with many titles - legal refugees, illegal aliens - Crazy name! Who comes from another planet?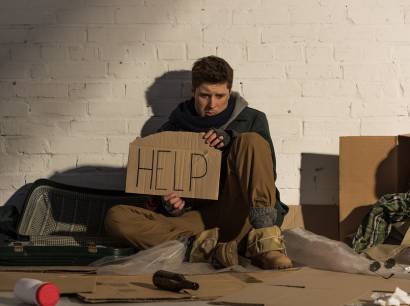 This Week's Story relives American history and the Bible through brief inspiring stories presented on mp3 audio recordings and text for reading.
Homeless - For me it started on Skid Row. part one
As a kid I passed men in shabby dirty clothes walking Chicago's Skid Row. Sometimes one stumbled. Not a Martin or a Joe! Just someone called "Homeless Bum"! They were common sights, as Mom and I stepped from a streetcar and walked a half-block to Pacific Garden Mission. The mission was a large homeless shelter where Mom played the piano for their evening gospel services.
When we arrived, a big room was filling with men. They came for a free meal and bed and were expected to attend a service with singing and preaching about Jesus. Mom played with sparkle and the preachers talked straight. Harry Saulnier, a giant of a man and director of the mission, moved among the men with a smile, a handshake or an arm around the shoulders of a man. Many looked like the men outside.
When my family moved to the western corner of the United States, I saw no homeless. Years passed and then their population began growing across America, appearing on streets in little and big towns.
Now we see clumps of newspapers covering homeless men and women in the corners of buildings. There's a grocery cart with a dog,
flag, and bags pushed by a war veteran. A young man whom I do not know, steps to my car window and asks, "Could you give me money for food? I lost my job."
I ask myself: "What should I do? If I give the guy money, what will he use it for? I only have change with me. That will have to be enough."
Another challenge is becoming an emergency with many names. Illegal aliens! Crazy name! Who comes from another planet? Immigrants, criminals, terrorists, homeless refugees seeking legal asylum… people wanting, and maybe desperately needing a place to live.
Americans argue, "We do not have money to help these legal or illegal foreigners. We have homeless Americans on our streets and Americans who need jobs. Do these immigrants care about our country? Should we help them? Does the Bible say anything about helping foreigners or homeless people? It sure does."
Thousands of foreigners are currently entering the United States legally and illegally every month. Some plan to reach relatives or friends with whom they can live. Recently I have talked with legal refugees from Honduras, Guatemala, El Salvador, and Nicaragua. They stay briefly in a government-approved refugee shelter in the town where I live. When they leave, new ones come.
I ask in Spanish and English, "Where are you going?"
I teach some to answer in English. They reply, "I go to Denver, Colorado. I go to Virginia. I go to Tennessee. I go to Georgia. I go to Alabama. I go to New York." Ohhh--many places with names so difficult to say!
I see unusually quiet children, men, teen boys, few women, and no old people. When I smile at one, a smile lights a face.
This is Barbara Steiner and I wish to share more with you about a shelter where refugees and volunteers meet.
Please investigate thisweeksstory.com.
<< previous story] [next story >>
---

Join the conversation.
This Week's Story is a non-profit supported by listeners. [click here to make a donation with

]