This Week's Story
subscribe to podcast [click here] or play audio below
Who can interpret Pharaoh's strange dreams?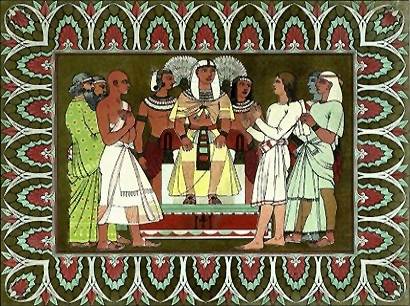 This Week's Story relives American history and the Bible through brief inspiring stories presented on mp3 audio recordings and text for reading.
Joseph: Who knows? part three
"This morning I cannot think about anything, except the two dreams I had last night. I feel someone is sending me a message, but I don't understand it. I will call for my advisors."
Pharaoh was frustrated as he spoke to his advisors. "You are trained in Egyptian wisdom! What use are you to me?"
"Pharaoh, we cannot suggest an interpretation to you. We are baffled."
Pharaoh's wine taster spoke, "When I was in prison two years ago I had a dream that made no sense to me. A Hebrew prisoner named Joseph told me, 'I know what your dream means. In three days you will be released from prison and returned to your job as Pharaoh's wine-taster.' Pharaoh, what he said, is exactly what happened."
Pharaoh ordered Potiphar, captain of his guard. "Go quickly and get Joseph from prison."
Joseph hurried to Pharaoh's court wondering, "God, is this my time to be released from false charges and years of imprisonment?"
Pharaoh addressed him, "Joseph, I had two dreams last night. You, I am told, understand dreams."
"Pharaoh, I don't have the power to interpret your dreams. Only God can. He can give you the interpretation and ease your troubled mind."
"Joseph, in my dreams seven fat healthy cows stepped out of the Nile River and began eating grass on the bank. Then seven starving cows staggered from the river. The second group was uglier than any I have seen in Egypt. Though weak, they attacked and ate the healthy cows.
Then I saw a plant stalk with seven heads of perfect grain. Next seven wrinkled and withered heads of grain appeared. These worthless heads swallowed the good ones.
I have a predicament. No one knows the meaning of my dreams."
Joseph spoke, "Pharaoh, your dreams have the same meaning. God is telling you what He is going to do. For the next seven years Egypt will have bumper crops. Then for seven years, crops will fail. A famine will come that will be so terrible that people will forget that they ever had good years. Your people, crops, animals, and land will be like the ugly starving cows. You had the dream twice because God has determined these events and they will begin soon.
Pharaoh, this is not a hopeless situation. Find a wise man to be in charge of a national relief plan. Appoint managers to store one-fifth of each crop harvest during the good production years. This will provide for the people during the famine. Otherwise your people will starve to death.
Pharaoh's head began to nod in agreement, but his advisors were too shocked to keep silent. "This Joseph is a Hebrew slave and a foreigner! He cannot be trusted. Potiphar's wife accused him of raping her and he was imprisoned."
Potiphar spoke, "O great Pharaoh, there is much I do not understand about Joseph. I know that he successfully ran my estate. The chief jailer also put him in charge of all prisoners and prison operations. In all these positions he has shown excellence.
Pharaoh proclaimed, "Joseph, you are obviously filled with the spirit of God. Since the dreams have been revealed to you, you are the wise man I appoint. You will have authority over my household and every family in Egypt.
So at age 30 Joseph became second in command, and answered only to the Pharaoh of Egypt.
This is Barbara Steiner sharing a familiar and popular Bible story.
<< previous story] [next story >>
---
We invite your comments! [click here to comment]
I love hearing Mrs. Steiner's voice. I enjoy the story and the meaning. I will share it. From Ana
Dear Ana,
Thank you for your comments. Mrs. Steiner's voice definitely makes these stories come to life. Leah
What gets me is how Joseph keeps getting into trouble and he's not doing anything wrong. from Chris
Dear Chris,
This story inspires me to rise above circumstances just as Joseph did. Leah
God obviously was on Joseph's side, because of how Joseph became second in command in Egypt. from Jenny
Dear Jenny,
God knew Joseph's heart and treated him accordingly. Leah
Personally, I think the Pharoah is one of the nicer leaders in history. He believed Joseph when he interpreted Pharoah's dreams. Joseph was a foreigner and he was in jail. He did not have alot going for him. from Sunny
Dear Sunny,
It is refreshing to learn about a leader who asked for help and returned the favor. Leah
No matter how many times I hear about the Pharoah's dreams, they intrigue me. When Joseph told the Pharoah about the meaning of the dreams, did Joseph have time to pray? from Liz
Dear Liz,
I am not sure if Joseph had time to pray. I like the fact that Joseph's faith and wisdom were obvious to Potiphar and Pharoah. Leah
It appears that God abandons Joseph. It is fascinating how many steps led to God using Joseph in unusual ways. "For I know the plans I have for you, says the Lord. They are plans for good and not for disaster, to give you a future and a hope." Jeremiah 29:11 from Caleb
Dear Caleb,
The Bible is amazing. As Solomon states in Proverbs 3:5, "Trust in the Lord with all your heart and lean not on your own understanding." Leah
I enjoy Barbara's voice. I also admire Joseph's patience through all that he had been through. from Janet
Dear Janet,
Patience is a great trait to have. I believe quite often rewards follow true patience. Leah
Potiphar spoke up for Joseph to Pharoah. Potiphar said that Joseph did a good job on the previous responsibility Potiphar had given him. This is surprising because Potiphar had sent Joseph to prison and now he is speaking up for him. from Fatima
Dear Fatima,
I think God opened Potiphar's eyes to see what a good and wise young man Joseph was. Leah
---

Join the conversation.
This Week's Story is a non-profit supported by listeners. [click here to make a donation with

]