This Week's Story

click here to play audio
Our dogs... Sparky, Scruffy, and Shadow!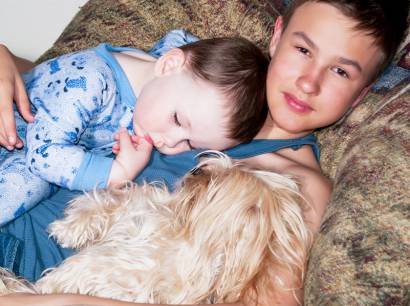 This Week's Story relives American history and the Bible through brief inspiring stories presented on mp3 audio recordings and text for reading.
Americans Love Dogs, part one
I pulled a small folded paper from my wallet and read, "Sparky died February 5, 1955." My sister Connie had a similar piece of paper. Sparky was the neighbors' dog, but it was Connie and I who ran on summer days in a large field of tall grass with him. We did not want to ever forget the day he died. I do not remember how he died; I only know that February 5, 1955 Sparky left our lives.
Years later Scruffy joined our family. Now the family was Scruffy, my husband, our five children, and myself. Scruffy looked like his name and was gentle with everyone in the family.
Then part of the family, including Scruffy and myself, moved many miles from the green hills of Washington to the desert of Southern California. Time passed. Scruffy became fourteen years old and disappeared. He had become nearly blind. Friends suggested that he knew he was going to die and probably went into the field behind our house, lay down, and died. I mentioned his loss to many people. Someone thought he spotted Scruffy in the town park. I looked there and other places, but I did not find Scruffy.
Two years passed until my kids and I went looking for a rescue dog. Shadow was our immediate choice. She was a mix of Doberman and Belgian Shepherd. One ear was a stand-up; the other ear always flopped.
She loved to swim in the river with us. Though she was an outdoor dog, her greatest joy was to be with us, wherever we were. Often, when I left the house by the front door, I would see her nose pressed against the back glassed sliding door. How did she know I was going? I had walked from a side room and straight to the front door.
Once in the middle of a lesson with my senior students I said, "This morning when I was leaving home, I looked back. There was Shadow, my dog, with her nose against the backdoor window and watching me."
Instantly, when I said, "Shadow, my dog," the eyes of my students changed. They became curious and soft. I told them more about Shadow.
Later when Shadow was seventeen, her tremendous energy was leaving. No longer did she run around the back yard or dig holes under the fence. She began losing control of her hindquarters. One day it became necessary to take her to Dr. Steve, the local veterinarian, to be put permanently to sleep.
I drove to the clinic side door to hand her to a clinic assistant. A former student of mine stepped outside, smiled, and started to talk. Trying desperately to stop my tears, I asked, "Don't talk to me now." I handed Shadow over tenderly.
It is no surprise that dogs have been pets longer in the history of the world than any other animal. American history and the history of many countries have stories of the loyalty, bravery, and love of dogs; and how dogs can teach their human families to be tender, brave, and responsible.
This is Barbara Steiner with personal memories. Soon we will hear about the famous dog, Sergeant Stubby, who was a World War I hero. Enjoy thisweeksstory.com.
<< previous story] [next story >>
---
We invite your comments! [click here to comment]
---

Join the conversation.
This Week's Story is a non-profit supported by listeners. [click here to make a donation with

]