This Week's Story

click here to play audio
An Irish-American family journeys to understanding.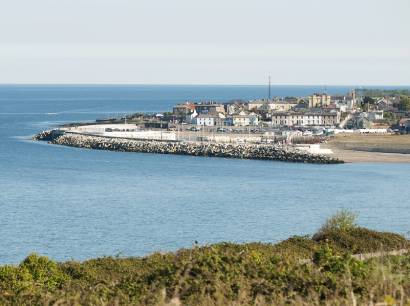 This Week's Story relives American history and the Bible through brief inspiring stories presented on mp3 audio recordings and text for reading.
They welcomed us to Greystones! part four
During the night I heard soft talking coming from the bedroom where my parents were recovering from jet lag. I slipped from bed and stood near their door. They were speaking in English and Irish Gaelic.
Mom's voice was tender. "Terence, my heart is pumping joy. For the first time in eighteen years your parents have allowed us to come to their home in Greystones, Ireland.
"When we married in Northern Ireland, your family refused to come to our wedding. My family came, and we prayed for peace and beginnings.
"When we moved to the United States, we did not flee from the Irish potato famine of the 1800's. We fled from brokenness, division, and hatred in the Republic of Ireland and Northern Ireland.
"In our new home, I used to stare at the grey stones in our driveway. Imprinted on them I saw the faces of your mother and
father. I saw blood spilled for centuries on the rocky shores and green fields of Ireland. I yearned for your parents to accept us.
"To them I was the enemy who was polluting their family allegiances. Three strikes were against me. I am a Protestant and from Northern Ireland. I have worked for peace between the Roman Catholics, Protestants, and British.
"Yet, how surprising it is that when our son Andy asked if we could stay with them for two weeks, they agreed."
Mom's words stirred me. The past five weeks have been my coming-of-age. My sixteenth birthday present from my dad was a grey stone, given with no explanation. At my request he agreed that I could present a proposal.
For four weeks I researched grey stones and formulated a proposal requiring our family to come to Ireland. Dad accepted it and asked me to research the history of Ireland's struggle to be one country and independent from the United Kingdom.
My parents' voices stopped, and I returned to my bed. I awoke to the noisy sounds of the Irish rugby anthem. Guys were walking past my grandparents' home and singing, "Ireland, Ireland/Together standing tall/Shoulder to shoulder/We'll answer Ireland's call!"
This is January 8, 2018 my first day in Greystones, Ireland. I thought I came here to pursue research on how the I.R.A. affected an Irish family. I suspect I will be focusing on what divisions can do to a nation and family.
I have discovered that my birthday stone represented Mom's personal convictions and Dad's childhood in Ireland and the United States. Dad's family emigrated from Ireland to the United States to escape I.R.A. violence and death. As a young man he went to Northern Ireland and met my mother.
When we were travelling to Ireland, I heard Dad say to Mom, "Shelley, maybe my folks will finally accept that I married a Protestant who accepts Northern Ireland being allied with the U.K."
Mom had answered, "Terence, they fear centuries-old differences between Irish Roman Catholics and British and Irish Protestants. Jesus told people to forgive, love their enemies, know His peace, care for the poor and stranger."
"Today I think of Mom's words. This morning after breakfast I want to talk with Grandpa. He has already smiled often at me."
This is Barbara Steiner. As perhaps you do, I see Americans divided and Americans practicing forgiveness.
You are invited to visit www.thisweeksstory.com.
<< previous story] [next story >>
---
We invite your comments! [click here to comment]
---

Join the conversation.
This Week's Story is a non-profit supported by listeners. [click here to make a donation with

]